Heavy-duty Dehumidifiers for Basements and Crawl Spaces
Keeping humidity low (below 60%) is challenging in basement and crawl space areas.
But it's critical to maintain lower humidity in these spaces if you want to discourage mold growth that can put hazardous mold spores into the air you breathe.
Of course, mold can have other damaging effects as well, like ruining cloth and paper items and rotting wood.
But the adverse health effects from exposure to airborne mold spores are what make humidity control most important.
National Radon Defense dealers can help with dehumidification needs to improve your home's air quality. To schedule an estimate for dehumidification or any of our services, find your local NRD dealer!
"Hostile" basement and crawl space environments are too much for consumer-level dehumidifiers
Many homeowners may be tempted to handle basement or crawl space dehumidification with a bargain-priced dehumidifier purchased from a home center or appliance outlet. Unfortunately, even the so-called "heavy-duty" models in this selection of dehumidifiers will not perform efficiently or reliably in the typical basement or crawl space.
For example, a consumer-level dehumidifier may only be capable of removing 30-40 pints of water per day from basement or crawl space air. Instead of a self-draining design, many lower-priced dehumidifiers have collection trays that need to be emptied manually one or more times per day. Most consumer-level dehumidifiers aren't designed to work in the cool temperatures found in a basement or crawl space -the unit's evaporator coil can freeze when temperatures drop below 70 degrees F.
SaniDry™ dehumidifiers are designed for "worst-case" basement and crawl space conditions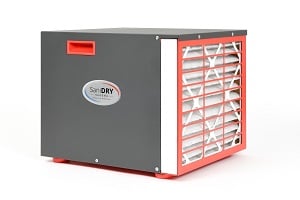 The SaniDry™ Sedona dehumidifier is certified by ENERGY STAR® as a high-efficiency dehumidifier. The Sedona can remove up to 109 pints of water per day, and it can operate in temperatures as low as 40°F. The Sedona is also self-draining and has a humidity sensor that monitors the air. This means that once it's installed, there's nothing else to do!
For crawl spaces and low-ceiling basements, the SaniDry™ Sedona may be the perfect option for you. This unit is the industry's best for dehumidifying a damp, humid crawl space. The SaniDry™ Sedona easily fits into small spaces, yet its powerful blower is strong enough to dry large spaces as well.
To have a National Radon Defense dealer install this dehumidifier in your home, contact your local contractor today! The health and comfort benefits you'll receive from a dry, clean space is well worth talking to a professional. Find your local dealer and schedule an estimate!
Looking for a price? Get a no cost, no obligation free estimate.